| Posted Oct, 07, 2022
Meet Konnor, Alpine Park's Community Ambassador
Hello! I'm Konnor Weed, your host here in Alpine Park. Think of me as your neighbourhood concierge, available to you from our Welcome Centre while you are on your journey to finding your new home. You'll often find me walking through the community, smelling the flowers, taking in the scenery, and listening to music. I am a metalhead at heart, but if you visit me at the Welcome Centre, you will hear everything from jazz to pop to rock.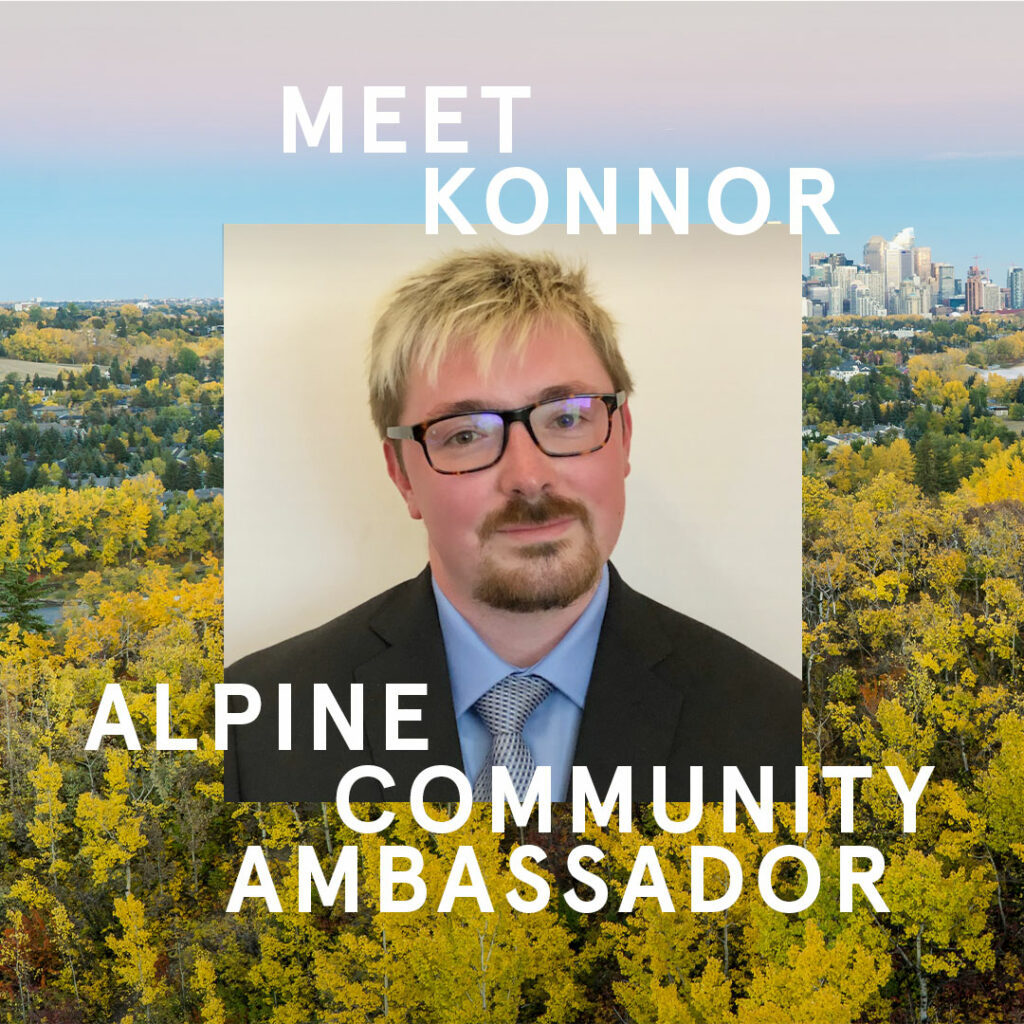 I'm a graduate from the Communications program at Mount Royal University, where I made some of my closest friends. We are avid hikers of trails in Banff, Bragg Creek and Kananaskis. I'm not the "highest point on a mountain" guy; I stick to the "let's hike for three hours and then turn back for ramen" kinda guy. Don't get me wrong, I love hiking, but it's really all about getting outside, staying active, and good company. For the times I am not panting for breath at the end of a long hike, I spend several evenings playing drums for a local rock back called The Echoverse. I dabble in tons of board games too. Every month we aim to play a new one. My current favourite is Carcassonne. It's a map-building game where you connect roads and cities, trying to score influence and points. I am always looking for new game ideas so if you have one, feel free to pitch it to me!
I never used to drink coffee, then university taught me that it can make the day a bit more joyful. If coffee is your thing, we have a Nespresso in the Welcome Centre when you pop in for a visit. Enjoy your beverage (water is just fine too!) while I tell you all about the programs and events we'll be hosting in Alpine. Or I can walk you through what makes Alpine Park so unique, introduce you to our builder partners, or challenge you to a game of Frogger! Yes, that old arcade game is the perfect analogy for pedestrian safety and why it's such a big focus of the community. We have so many more interactive and engaging installations coming to the Welcome Centre, it's worth coming by a second or third time too.
So come on by to say hi! The Welcome Centre is open from 2 to 8pm on Monday to Wednesday and on weekends from 12 to 5pm. If the door happens to be closed during those times, I am either strolling through the pathways, checking on the community gardens, or helping out with an onsite event. I can't wait to see you here in Alpine!