Story | Posted Mar, 04, 2022
A weekend away in Kananaskis
While Alpine Park will provide residents with many of the amenities they need close to home, being close to major thoroughfares means adventuring in the city and mountains can be just as close. By heading out on the newly built ring road, residents and adventurists alike can find themselves in the mountains in under an hour. Eager to test this out for herself, Meaghan Clubley, Alpine Park's Community Events and Program Coordinator took us along for her weekend experience in the mountains.
With the warmer weather we have been experiencing here in Calgary, it's hard not to take advantage and seek out activities in the outdoors, whether that is going out to the mountains, trying a new hike, or simply getting out to enjoy nature. With incredibly easy access from Alpine Park to Kananaskis country, we were submerged into the mountains within a short 30-minute drive. We started off our weekend by heading to Allen Bill Day Use in Bragg Creek. Neither one of us had been there before, so we were excited after seeing images online. It was only after taking the wrong turn that we realized that finding the area was actually quite simple. We can owe that one to Apple maps for leading us astray. Once we realized our mistake and switched over to Google maps, it led us right where we needed to go, just off Highway 66 to the left. The area had lots of parking, public bathrooms, plenty of picnic tables, benches, and fire pits. Lucky for us that there were some picnic tables still available despite being late morning on a beautiful warm Saturday. We poured some hot chocolate into our mugs and set off to walk along the river. With the beautiful views surrounding us, the relaxing sounds of the river, and the sun shining on our faces, we couldn't have asked for a better start to the weekend. We will defiantly be back to the Allen Bill Day Use, and highly recommend it to anyone wanting to get out of the city to enjoy nature, a picnic, or even have a fire and hot dog roast with family and friends.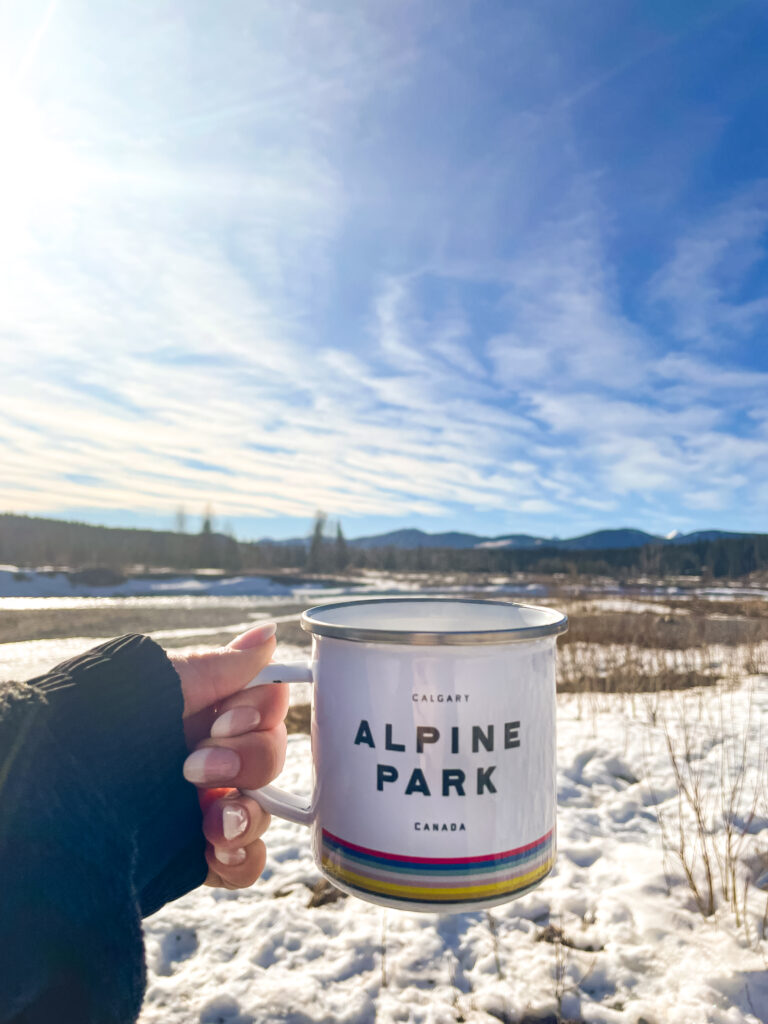 Leaving Allen Bill Day Use, we set off to our next stop, making sure that Google maps was taking us in the right direction of course. We headed to the popular hike Grotto Canyon located in the Bow River Valley. As we have never done this hike before, we were extremely excited after hearing about the extraordinary frozen-over canyon. I must mention right off the bat that neither my partner nor I are experienced hikers, so we did not know what to expect. But getting there was easy enough, and thankfully we did not get lost this time around. The parking lot was very busy around the time we arrived at 2 pm, but we were still lucky enough to find a spot. However, I do recommend starting this hike earlier on in the day if you do want to avoid larger crowds on the weekend. We geared up and set off on the hike, however, soon after we realized we had gone in the wrong direction. (I guess you could say wrong directions were a common theme from the weekend). We had walked the trail next to the large pond for about half an hour when I turned to my partner and mentioned that we hadn't passed or seen anyone else on the trail, which seemed quite odd for how busy the lot was. Once concluding that we were probably on the wrong path, we shared a laugh and headed back to the parking lot. The sign for the correct trail is very large and easy to find, so don't worry about hiking in the wrong direction as we did. Unfortunately, we cannot owe that mistake to Apple maps this time. The trail starts very easily and is heavily trafficked. Since the majority of this hike you walk through a winding canyon with a frozen creek, it is strongly recommended that you make sure you come prepared with spikes for your footwear and walking sticks for extra support on the ice. The canyon is completely iced over and the hike can be quite slippery. Circling back to us not being experienced hikers, we were unaware of the need for spikes for this particular hike and therefore learned the hard way with a few falls, scrapes, and bruises. Not to mention with the nicer weather we have been having, the canyon had some areas where the ice was melting, leading to areas of the trail that were very slushy. Packing a pair of extra socks would be also a good idea as we almost got a boot full of water here and there. Despite the obvious obstacles we were facing, the hike was breathtaking. Being surrounded by the beautiful canyon was one of the coolest things I have seen! It seemed we stopped for picture taking every 5 minutes, as there were so many amazing sights to capture. Plus, at the end of the canyon, there was this amazing frozen waterfall that you would have had to see to believe. Overall, the hike took us around 2 hours total there and back but probably would have been quicker if we had the proper equipment. This hike is good for beginners and is with the proper equipment would be quite easy. All in all, we shared so many laughs during this hike, saw some amazing views, and would defiantly recommend it to anyone who hasn't done it before!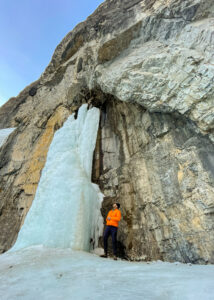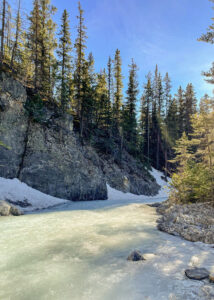 By the time we had finished the hike, it was time to check into our hotel. We stayed at the Coast hotel in Canmore, this was our first time staying there as well. Check-in was seamless and the staff was very friendly. Our room was comfortable and had everything we needed. The location of this hotel was great as well, just across the road from a plaza that had tons of shops, and restaurants. For supper that night we had a special delivery from Moonlight and Eli in Calgary. Whether you are staying in the Canmore and Bow Valley area, they can deliver champagne, cheese and chocolate fondues to your home, hotel or holiday rental. Electric fondue pots are available for rent alongside their large selections of different fondues and drinks. Not to mention they have a location in Calgary, where you can also choose to pick up the before your trip to the mountains. We were so excited about this, as it was something different to experience on our weekend getaway, plus we were feeling tired from our day of exploring we were looking forward to staying in our hotel for the night. The fondu was delicious and easy to use from the instructions provided. The service from Moonlight and Eli was fantastic, and we would highly recommend them to anyone wanting to try something different at home or looking for somewhere new to try in the city! In the morning we woke up refreshed and ready to take on our next adventure of the weekend, snowshoeing! Neither of us have been before, so we were excited about the experience. Located conveniently in the plaza across from the Coast hotel was Chateau Mountain Sports where we were able to rent our snowshoes. We grabbed a few pairs and headed to Canmore Nordic Center to check out the snowshoe trail there. Since the majority of the area is used for cross country skiing, it was difficult to find at first. So, we ended up having to go inside the chateau and ask for directions to the start of the trail. But once we were pointed in the right direction, there were signs indicating the trail, which was helpful.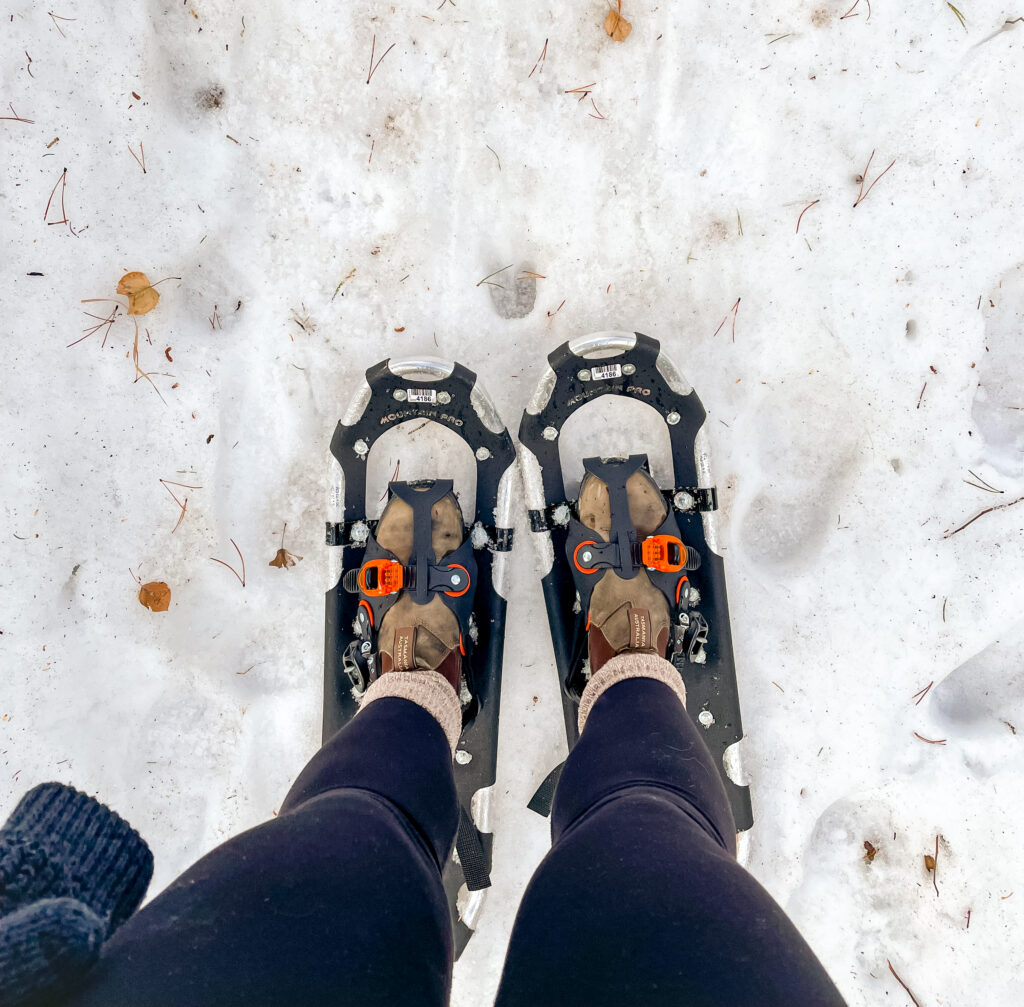 One thing that we should have kept in mind was all the warm weather. While the sunny weather is always a great reason to get out to the mountains, it is not necessarily great for snowshoeing. There was practically zero snow on the trail, which made it almost impossible to do. While the snowshoe trail at the Nordic Centre is a 3km loop, we were only able to the initial part due to the conditions. Unfortunately, this portion was beside the road and the beautiful mountain views were blocked by the trees. With that being said, snowshoeing is a fantastic activity and an easy one to do to get out in nature, but it is highly recommended to trying to do so after a heavy snowfall or finding a trail in higher elevations where snowmelt might not happen as fast. Overall, we had such a fun and relaxing weekend away in the mountains. We feel so lucky to live in Calgary and have this access to such a beautiful place. Especially in Alpine Park which makes getting out in nature that much easier. You don't have to worry about traffic or driving through the city. Whether it is a weekend getaway or even a weekday night, a 30-minute drive is easy for anyone. For myself, I know I defiantly take for granted our big backyard and having these little weekend getaways is such a great reminder of the beautiful province that we do have and to take advantage of it more often.